de Toledo deBates: National Anthem Protests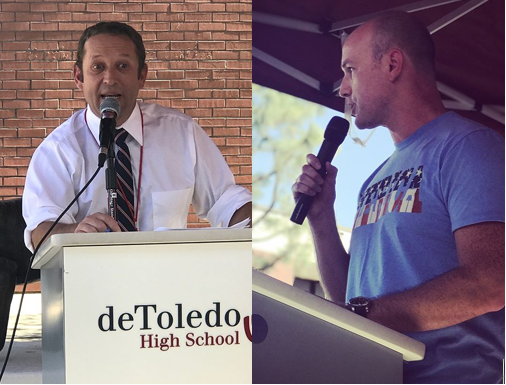 Hang on for a minute...we're trying to find some more stories you might like.
On Tuesday, October 17, the History department held its first in a year-long debate series, which discussed an important and relevant question in today's politics: Should America celebrate the athletes who protest during the national anthem?  
The de Toledo deBates, hosted by the History department, offer students the chance to engage in and discuss difficult issues of our time and understand a variety of viewpoints on complex issues.
The debate was lead by Mr. Vacca, who argued in support of those who protest during the national anthem, and Mr. Dembo, who argued against those protesting.
In Vacca's three-minute introductory speech, he argued that the protests are not about disrespecting the flag, nor about disrespecting America's soldiers, but rather a protest against the racial inequality in America.
Vacca quoted Colin Kaepernick, who said, "I am not going to stand up to show pride in a flag for a country that oppresses black people and people of color. There are bodies in the street and people getting paid leave and getting away with murder."
Vacca discussed how according to the first amendment, the right to protest in itself is a patriotic act. "The first amendment," he said, "has been instrumental in forwarding voting rights for women and civil rights, fair wages and equal pay for World War I veterans, ending wars, changing laws and unjust practices, equal rights, among many other laudable goals."
Vacca provided evidence of recent accounts of racial inequality, citing the Washington Post, which states that African-American Americans are 2.5 times more likely to be killed by police brutality than white Americans.  
Therefore, the fight for equality under the law continues to this day, Vacca argued. The protests are solely about racial injustice, mass incarceration, lengthy prison sentences, and police brutality.
Following Vacca's argument, Dembo argued why the country should not celebrate the athletes who protest during the anthem, explaining that the flag is a tangible symbol and manifestation of the highest principles that define the United States of America.
Dembo discussed how the nation is deeply divided on this issue, and the protests are dividing rather than unifying the country. It is not a question of the right to protest, as protest is essential in order to bring about social change, but it is a question of the right way to protest.
"Alienating a majority of the civil population is not productive to the issue being protested," said Dembo. "A protest has to be geared to win the hearts and minds of the majority in order for there to be a groundswell of public support, which will create a democratic wave that will inevitably lead to social change."
Dembo compared the right way to protest to the protests led by Mahatma Gandhi in India. Gandhi was able to garner support from the entirety of the population, an action that is essential in order to bring about change in the United States.
Following a rebuttal period, the debate concluded with a concluding statement from each person.
In his conclusion, Vacca, addressing Dembo's argument regarding the right way to protest, argued that the athletes' protest has created change and resulted in the NFL's support of legislation that is aimed at "easing sentences for some nonviolent offenders of drug crimes, and represents a victory for peaceful protest driven activism."
Further, he said that he is not sure how one can be disrespectful to the flag when it is considered a constitutional act to burn it, according to a Supreme Court case in 1989.
In his concluding statement, Dembo addressed that when protesting, one must not simply "make noise." In order for a protest to have value, it must further a cause.
"It is not about simply solving one problem in America, it is about changing the mindsets of people. It is essential to convert people to your cause in order to change the system," said Dembo.   
In his introductory remarks, Mr. Hendlish discussed the overall purpose of the debates and the History Department's hope to get the students more involved in politics. He compared the campus to the Greek city-states that would gather in a center of "artistic, athletic, spiritual, and political life."
"It is our civic duty as citizens to informed about the world around us. We hope that these debates will challenge your own thinking, sharpen your critical analysis skills, and help you to understand your stance on political issues and why," said Hendlish.
It is the dTHS administration's hope that the recurrent debates allow faculty and students to discuss their ideas and beliefs in a positive way that serves to educate and inform the student body, rather than alienate those with opposing beliefs.  
About the Writer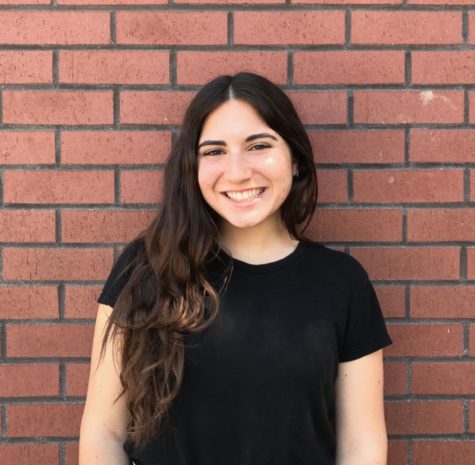 Natalie Gordon, News Editor
Natalie Gordon is in 12th grade and has been writing for The Prowler for the past three years. In her spare time, she enjoys playing soccer, cooking, and...