Classical Musical Salon: A Refined Lunch
Hang on for a minute...we're trying to find some more stories you might like.
Instead of the typical Music Appreciation Club meeting last Wednesday, November 1, at lunch, the Music Room hosted this year's Classical Music Salon. Historically, the Classical Music Salon has taken place after school and started well into the evening, sporting a healthy variety of students and faculty performing classical pieces.
Although having the Classical Music Salon take place during lunch instead of after school implicated that I, as a Stagecraft student, had one less event to worry about during this busy time, I was a bit worried the crowd would be underwhelming during lunch when so many of our students take part in club and StuCo meetings, and otherwise may not want to spend their entire lunch enjoying the majesty of classical music.
Well, I was wrong. The Music Room was completely filled, with every chair taken, and at least a dozen students and teachers standing at the back of the room near the tasteful cheese-and-cracker spread.
Following a brief introduction by Mr. Stein, Lola Chen performed a selection of the beautiful Moonlight Sonata on piano by Beethoven, providing an elegant introduction to the wonderful acts to follow.
For the second act, Ms. Feldman on piano, Dr. Sacks on cello, and Mr. Stein on violin joined forces to perform the baroque "Theme from 'Water Music'" by George Frideric Handel, which garnered a healthy and well-deserved round of applause.
As a birthday surprise, Ms. Jamie Stein sang her own happy birthday piece (accompanied by Ms. Feldman on piano, of course) to her husband, Mr. Stein. This, along with several bouts of the traditional "Happy Birthday Song," helped to highlight yet another cause to celebrate into the Music Room that day.
Bringing a jazzy twist to the lunch, Jonathan "JR" Krone and Matt Shulman played "Ere We This Perform" (Witches Duet) by Purcell on their respective tenor saxophones while accompanied by the fabulous Ms. Diane Feldman.
Finally, to close the lunch as she opened it, Lola Chen returned to play the complex Piano Sonata No. 11 in A Major K.331 (Rondo Alla Turca) by Mozart; a beautiful end to a fine, classic, and sophisticated lunch.
Although this is a vastly different take on the Classical Music Salon we've put on the past few years, I'd consider this to be as much, if not more, of a success. The room was packed, the performers were ready and eager, and most importantly, the lunch provided an easily accessible way for students to hear and appreciate classical music, which they may not be exposed to otherwise. Even Mr. Stein was surprised by the success, saying that there's thought of holding another Classical Music Salon this year.
About the Writer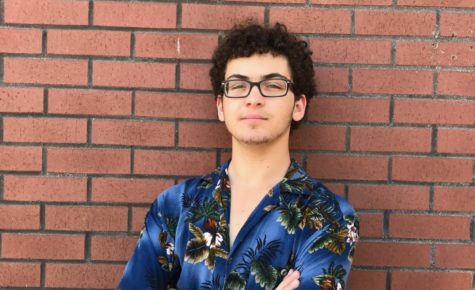 Rafael Monkarsh, Student Life Editor
Rafael Monkarsh is currently in his Senior Year at de Toledo High School. He unearthed his love for writing in 2016 upon taking Advanced Placement English...