SIEP 2019-2020 Trip to Israel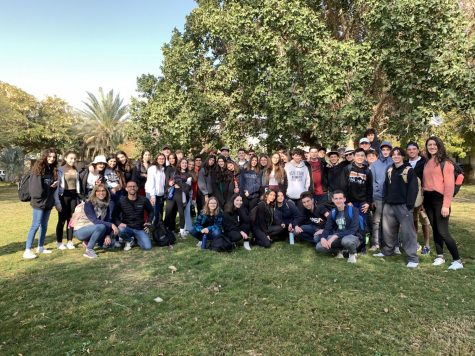 March 4, Tel Aviv Port: The Tel Aviv port is the true representation of the evolution of the modernization of Israel. It's a place with a deep history being built 25 years after the establishment of Tel Aviv which ultimately became an imperative element in the establishment of Israel. When you walk upon this beautiful boardwalk looking at the gorgeous oceanfront, the rich history of this place comes alive inside of you. As we saw, the port has become a popular nightlife tourist spot as it is an area of culture and entertainment. And, walking around through the numerous shops and restaurants you recognize how far Israel has actually come despite the brevity of independence and the constant setbacks caused by the resent from neighboring countries. That's why I feel this spot is also a place of celebration. I truly recommend visiting this place next time you come to Israel. -Ryan Koeppel
March 3, Shuk HaCarmel: Established in the 1920s, Shuk HaCarmel, also known as the Carmel Market, is located in central Tel Aviv, and is the biggest market in the city. Not only is the market known for its food, but it is also well-known for their plethora of fashion and electronics. During our visit to the shuk, we experienced the daily life of the locals living in the city. Through seeing the jewelry, art, food, and clothing, we were able to take a deeper look into the Israeli culture. -Jolene Esmailzadeh
March 1, Florentin: Florentin is a neighborhood in the southern part of Tel Aviv. It is named after Solomon Florentin, who was a Greek Jew who purchased the land in the late 1920s. Tourists are attracted to the city because of its hipster vibe, as it is filled with chic cafes, artist workshops, markets, and its famous graffiti walls. The graffiti art in Florentin often has strong messages associated with it. The graffiti on the walls displays an array of messages, such as politics, quotes from the Torah, and inspirational quotes.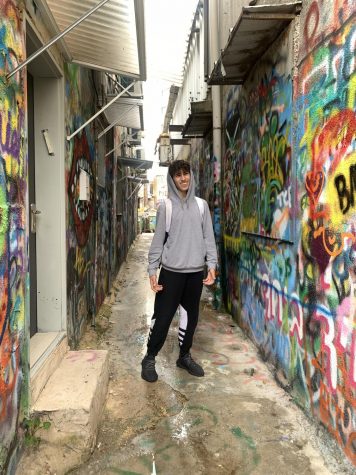 Today, our Ironi Alef group traveled to the Tel Aviv LGBTQ+ center. We heard an interesting talk from a transgender woman, who talked about what the center does for people of the LGBTQ+ community. She also gave us some personal insight by sharing her own story of how she experienced a lot of hardship throughout her life because of people who did not accept her for who she is. I learned a lot about the difficulties of how people of the LGBTQ+ community live on a daily basis. Next, we took a bus to Levinsky Street in Florentin, where we had some free time to enjoy lunch and walk around. Lastly, we toured the graffiti walls. I observed many cool things, such as the graffiti of a monster from a children's book, a unicorn, famous Israeli people, and a quote "Passion is like a movie, it has a beginning and an end, but love is like a…" I found that quote to be extremely powerful, and the graphics of two people in love shown with the quote were very moving for me personally. Overall, I found that our day was meaningful and fun, and I learned a lot about the history as well as the hidden messages within the graffiti walls in the mystical city of Florentin. -Hannah Giladi and Luca Cobos
February 27, North: Today we hiked through Mount Eiton and saw how unique it was. Half way through our hike, we were able to go through a tunnel with water in it. It was amazing to the see the beauty of this area! This mountain was a agricultural village many years back. My peers had fun hiking through the mountain although it was quit slippery. Through this hike their were many edible plants like flowers, and even many almond trees. -Rachel Epstein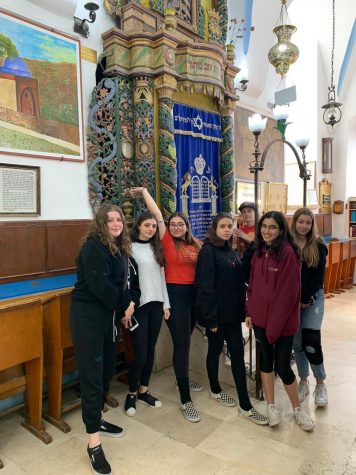 Today we went to Tzfat and we saw the beautiful nature and mystical sites that came along with it. We started our day by walking around the city. Tzfat was different from the other places we've gone because the way it was built made the scenery look older. During this trip we also went to a shuk. It was filled with small jewelry and art shops. We also went to a synagogue which was very different from every others I've seen. This synagogue was very small, but had a lot of small unique features. The bimah was in the middle while all the chairs were facing different ways. -Talia Finn
February 26, Yafo: Today our group went to the old port city of Yafo, which was built 5,000 of years ago.  We saw ancient buildings and clock towers that predate Tel Aviv's structures. We were also given some free time to roam around inside the famous flea-market that's exists in the heart of the city. There were many traditions and religious aspects that were depicted through the beautiful pieces of jewelry we saw. In all, Yafo is full of deep history that each person there lives through each day. In the few hours we spent, we just touched on how much there is to learn about this Old City. -Adam Dery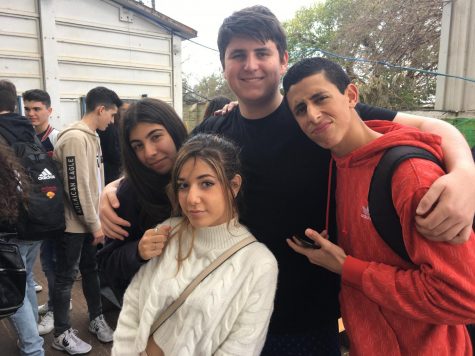 February 25, Shuk HaCarmel: Today our class visited shuk HaCarmel. This place stood out to me because of how unique it was. Once you stepped in it was like you stepped into another world. Everything was different whether it was the people, the smell, the food or just the energy you got while you were there. There are no markets that give you the same feeling as the shuk in Israel. Everything is open. The place is filled with people. You can buy amazing food, spices, or just gifts for your family. -Gil Grinstein
Kikar Rabin: Today, we visited Rabin Square in the center of Tel Aviv, Israel. This place is dedicated to the spot where former Chief of Staff and eventual 5th Prime Minister of Israel Yitzhak Rabin's life was tragically ended. In the time leading up to his death, tensions among certain people broke out relating to recent peace accords he signed with the Palestinians. Those people labeled him as a traitor and called for his assassination. It eventually happened on November 4, 1995 when he was shot and killed by a Jewish extremist on the exact spot where Rabin Square is located today. A mall is located right next to this spot as part of the square.
When we went to Rabin Square, we recited the Mourners' Kaddish for Rabin. We then talked about his blessed life and wished that this tragedy would never happen again to the Jewish people in Israel, America, and everywhere else. Afterwards, we lit a candle. It was a surreal moment standing by the site where this prime minister was assassinated. Emotions that ran through me included sorrow, shame, and regret because such a horrible thing happened to the Jewish people inflicted by other Jewish people. At the same time, I felt hope and redemption for the Jewish people because we can celebrate his life and legacy and use this dark event to teach future Jewish generations how to make sure this doesn't happen again. It also made me think about how life is so precious and how we should all appreciate every single second of it. It is an experience that I'll never forget. I encourage all travelers to Israel to visit this place. -Matthew Paris
February 24, Neve Tzedek: Neve Tzedek is a very artsy neighborhood. It is full of shops and and boutiques and especially full of the rich history of Israel. Neve Tzedek was the first Jewish neighborhood outside of the old port city of Jaffa. Neve Tzedek was established in 1887, over 20 years before the City of Tel Aviv was created. By the start of the 1900's Neve Tzedek had become an area where  many artists and writers flourished including future Nobel prize laureate Shmuel Yosef Agnon, and famous Hebrew artist Nahum Gutman. Overall Neve Tzedek was a great and very fun experience. – Jonah Osterman
Yafo:  Today was a really fun and unique day.  The history of Yafo is so interesting. It used to be an ancient walled city and now it is a new and artsy place you can go to with friends or family. Yafo feels alive and fun, but there's also so much history to this place. There was one part of Yafo where people's used items were being resold like a garage sale. It was cool seeing all the different and unique things. Yafo is the definition of "another man's trash is a another mans treasure". The views of Yafo are incredible; today the sun was shining down on the blue ocean. It was warm outside but not too hot. All the different people, locals and tourists, make Yafo special. Yafo, historical but cool, is a place you definitely have to visit. – Sarah Pfeifer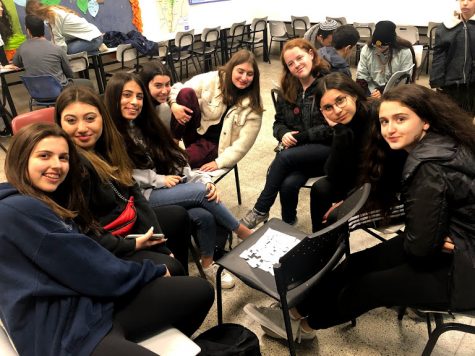 Israeli Innovation Museum: Theodor Herzl once said, "If you will it, it is no dream." After touring around Rothschild and the Shalom tower, I came to the conclusion that the Israeli Innovation museum was the most memorable part of the day. During our tour, we were introduced to various Israeli start-up companies such as agrint, watergen, and storedat. However, in my opinion, Orcam was the most interesting product we learned about. The device known as "my eye" is used to help the visually impaired read texts and recognize faces with the click of a button. After experiencing an interactive tour of the start up exhibit, we were lectured and taught about the difficulties of starting your own company. Although 90% of start ups fail, Israel is still nicknamed the "start up nation" because of Israelis' strong will to help others and make the world a better place. All in all, this tour helped me further realize that failure is inevitable but it will only further enhance your chances of reaching success. -Karen Cohen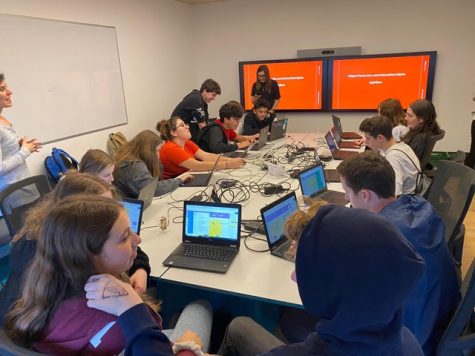 February 23, SIEP Lady Davis Delegation: Today we went to the Tel Aviv port. The port predates the state of Israel and was important to its development. Today, a lot is happening there. There are shops and restaurants along the water and it is an ideal place for young people to hangout. We visited the Wix headquarters.  Wix is an Israeli company that is used all around the world. The company hosts and designs websites for many companies. We learned how to make our own websites about places we want to visit. At the end we had to share our websites designs with each other. It was interesting to see where everyone wanted to go and how creative their websites were. – Michelle Shulman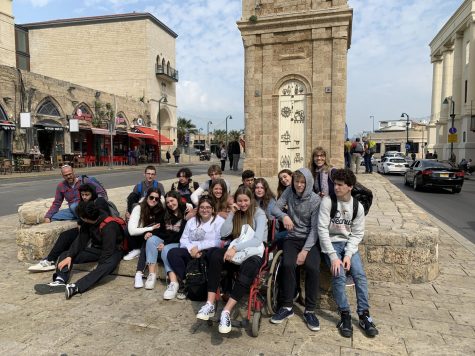 February 21, Jerusalem: The Old City was a highlight of our first week. As we stopped at an amazing view point overlooking the Old City, it felt like we were home. The fresh air blew as we took photos, and saw the old buildings and past Judaism come alive. Personally, the view wasn't just a photo for me; it was a part of my B'nai Mitzvah. In 2017, I had my Shabbat accompanied by this exact view. As I walked along the old stones I felt my Jewish Past connect to the young adult I have become since my last journey to the Holy Land.
My peers and I watched the people passing by, and made sure to stay in a straight line. This is because we went in the tunnels located under the Western Wall, which are very narrow. For me, the fact that we can physically walk through our past is so empowering. In today's world we experience the feeling of hiding. Most of Jews wear the Hamsas and Stars of David's loud and proud including myself. dTHS is a safe place, but sadly the need to tuck the chain in your shirt in some places keeps getting greater and greater. At the wall, I felt like I needed to wear it and show it.
The feeling of living your Jewish values doesn't become a bigger part of you until one steps into the old city. The smells of the fresh Pitas, and spices soothe your soul as you touch the wall. This wall connects us to G-d, as we find a place where we can be a JEW-a Jew that doesn't have to fear the spark of the sad topic of anti-semitism. You can feel connected in your own way here. The feeling of folding our personal commands and wishes to G-d into the wall is so heartfelt. And, if you can fold it small enough you can be extra lucky and find a place in the seams of the rocks the stone that we can touch and kiss in the Holy land. –Alexa Goldwasser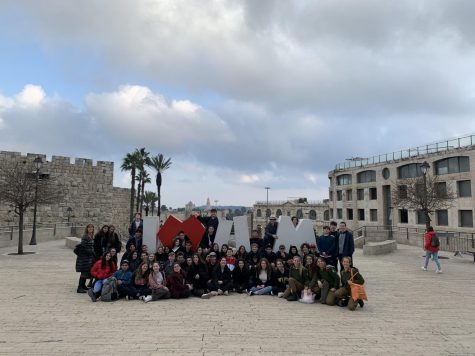 February 21, Shuk Machane Yehuda: When you enter Shuk Machane Yehuda you are immediately overwhelmed by the food, smells, people, yelling, and sense of community. This is my third time in Israel and I have seen a lot of the country, yet Shuk Machane Yehuda is always my favorite place. Today as we entered the Shuk my face lit up because I was finally back at the place that makes my heart (and stomach) so full. My attention was drawn to the colorful spices, and amazing smelling falafel. For lunch I had a melawach with potatoes, eggs, and other delicious toppings. It was similar to pizza, but way better. I also had baklava and rugelach. Baklava is my grandpa's favorite dessert and when I ate this sweet treat I thought of him. Rugelach is my favorite desert, every time I come to Shuk Machane Yehuda I get a box. The energy in Machane Yehuda is unlike any other place I have ever been. When I think of Israel I think of Shuk Machane Yehuda. I believe that Israeli culture is best portrayed at the Shuk, the yelling, laughing, huge smiles, and love are all on display. I adore the shuk and is a place I have and always will go to every time to travel to Israel. -Sophie Stern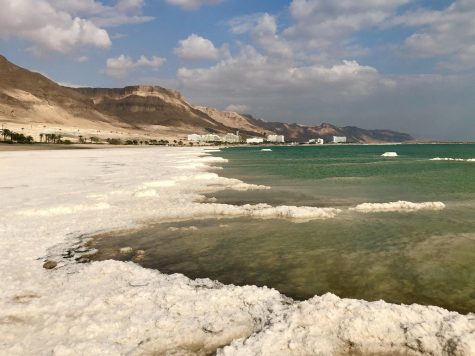 February 20, Dead Sea: On Thursday we traveled to the Dead Sea also know as ים המלח. The only way for us to get into the Dead Sea was for us to cross ten feet of pointy salt rocks. It felt like Moses and the Israelites crossing the desert for forty years, pain but with a beautiful setting in the end. Although the salt rocks were really difficult to cross, the prize at the end was worth it. Floating in the Dead Sea was awesome and a great experience I will never forget. -Gavi Sela
February 19, Sde Boker: When we saw David Ben-Gurion's home in Sde Boker it was a very special experience. For most of my life I had heard about what he did and who he was but I had never seen the extent of his work. He was a very driven man and being in his home inspired me to do things that I am passionate about. I think it was a very good experience to learn more about him and what he did for the state of Israel. -Seth Cohn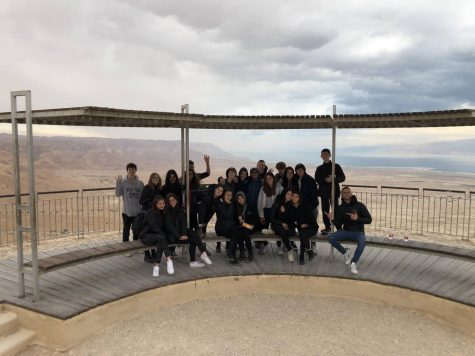 February 19, Masada: Despite the fact that we were not able to take the vigorous hiking trail to the top of Masada, this experience was so much more than just the hike. After our cable ride to the top of the mountain, we were greeted by some of the strongest winds we have ever faced. As we walked through these harsh winds to get to our next location, I took a look around at the aged walls of Masada which have survived thousands of years. These walls alone represent the hardships and struggles we, the Jewish people, have been through. We have been knocked down countless times, but we never failed to get back up. These walls have been hit and cracked but were never left completely destroyed. Furthermore, we learned how the people who lived atop Masada were able to survive on the mountain for as long as they did. They grew plants, like dates and olives, and created a water system in an attempt to survive in such harsh conditions. As a Jew, revisiting a holy location, like Masada, is always a great privilege and I am very grateful for this wonderful opportunity. -Eytan Azami