The #MeToo Campaign
Hang on for a minute...we're trying to find some more stories you might like.
Since the news detailing decades of sexual harassment allegations against Harvey Weinstein broke, women throughout the nation have taken to social media to voice their experiences of sexual harassment, and the dTHS faculty and student body have begun addressing this prevalent societal issue.
Recently, Roy Moore, American politician and former Alabama state judge, has been accused of sexual assault by several women.
These accusations are part of a nation-wide outcry galvanized by the #Me Too movement, which arose from the Weinstein scandal after actress Alyssa Milano said in a Twitter post, "If all the women who have been sexually harassed or assaulted wrote 'Me too' as a status, we might give people a sense of the magnitude of the problem."
#MeToo quickly went viral, and has since reached 85 countries with over 1.7 million tweets, according to CBS News.
Over the past month, many celebrities have come forward, including Lupita Nyong'o, Gwyneth Paltrow, and Cara Delevingne, to share their stories and denounce sexual assault and harassment in the wake of the sexual misconduct allegations.
"I share all of this now because I know now what I did not know then," said Nyong'o in an op-ed for the New York Times. "I was part of a growing community of women who were secretly dealing with harassment by Harvey Weinstein. But I also did not know that there was a world in which anybody would care about my experience with him."
Nyong'o explained, as did several women, that it was the women everywhere who shared their personal experiences that gave Nyong'o the power to share hers as well.
The #MeToo campaign inspired a movement of social awareness of the sexual harassment that is not only prevalent in Hollywood, but in every workplace, including politics and athletics.
On October 18, Olympic gymnast McKayla Maroney came forward and said that she too was molested by the Olympic team doctor. The doctor is currently facing criminal charges for allegations of sexual assaulting other gymnasts as well.
Maroney attributes her bravery to share her story to the #MeToo Campaign, as do several other athletes who have recently come forward with accusations against the same doctor.
The #MeToo campaign has not only served as a tool to empower women to speak out against sexual harassment, but it has encouraged many, including Lena Dunham, an American actress, writer, producer, and director, to call Hollywood's men to take action, pointing out that the ongoing problems are not separated by gender.
"It is, unfortunately, all of our problems… Hollywood's silence, particularly that of men who worked closely with Mr. Weinstein, only reinforces the culture that keeps women from speaking. We don't want to have to tell stories like this one again and again. Speak louder," said Dunham.  
This call to action has resulted in promises of investigations into allegations over the past several years, for example, by the California Senate, who has decided to hire an outside law firm to investigate allegations of sexual harassment in the Capitol.
In response to how this campaign empowers each individual, dTHS senior, Noa Getzug, said, "it helps victims of sexual assault understand that they have the support of the 'Me Too' community to give them the strength to come forward and share their experiences. The campaign also makes people more aware of the dangers of sexual assault in our society, especially as young women."
"To see how common sexual assault is is horrifying," Getzug added, "but it helps society see how we must learn to prevent it."
On Tuesday, November 14, Ms. Calloway, the director of deTOP, led an open discussion comprised of students and faculty in order to discuss how this problem should be addressed in the school.
As Noa and other seniors prepare to leave high school and for their entrance into the workforce, many believe that their generation has the responsibility to protest injustices such as this, ensuring that gender division and assault never become a societal norm.
The forthcoming reports of sexual misconduct in the workplace have forever changed the way Americans view the workplace. With the goal of ending the sexual misconduct that has been ignored for so long, women and men alike continue to speak out.
About the Writer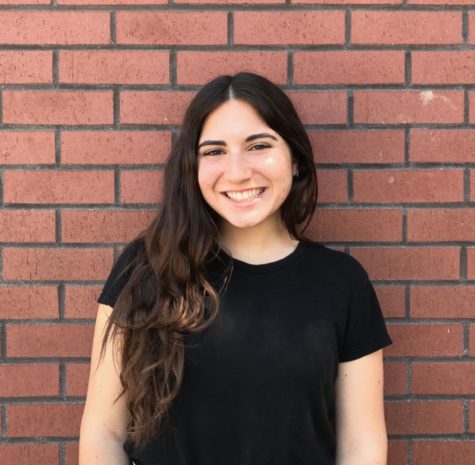 Natalie Gordon, News Editor
Natalie Gordon is in 12th grade and has been writing for The Prowler for the past three years. In her spare time, she enjoys playing soccer, cooking, and...