It's Time to Trade Yasmani Grandal
Hang on for a minute...we're trying to find some more stories you might like.
The Dodgers are an organization stacked in both major and minor league talent and especially so at catcher. With Austin Barnes and Kyle Farmer already at the big league level, the team also has Keibert Ruiz, Will Smith, and Connor Wong in the minors as the sixth, eighth, and 23rd overall prospects. This new wave of talent is reason enough for the Dodgers to shop former everyday catcher, Yasmani Grandal, and they should trade him when the right offer presents itself. So, for a few reasons, it is time to trade Grandal.
When there are too many players at a certain position, there becomes a struggle to get everyone playing time. This especially holds true for catchers as consistency between pitcher and backstop is crucial to the success of a team. So, to develop this rhythm, teams will usually carry two catchers on the roster to not hold up a roster spot with a third catcher as well as to keep the rotation of who plays behind the plate tight and predictable. Next year, without a trade, the Dodgers would be rolling out a three man catching squad with Barnes, Farmer, and Grandal, and that alone is reason to get rid of one catcher.
After last year's success, Austin Barnes has undoubtedly earned the starting job and he should maintain that status through next year. His ability to hit, play second base, and play very good defense will seal the deal for him after spring training. There is no situation in my mind in which the Dodgers trade Austin Barnes, so you can confidently count on the fact that he will be on the team next year and ready to work.
Following Barnes should be Kyle Farmer. Farmer has the ability to play catcher, third base, and first base, and that trio of positions should allow him to be a solid backup option. Farmer has proven that once he gets comfortable at the plate, his batting average and on base percentage increase and should be good enough to be used every fourth day and in pinch hitting spots. While he is young and still very inexperienced, I would be willing to put money on the fact that the Dodgers make him a regular in the lineup due to his flexibility and batting ability.
Now, that leaves us with Yasmani Grandal. If all goes as I just said, Grandal will be left as the third catcher going into next year and that would almost certainly relegate him to a pinch hitting role. His defense has never been strong enough to make him a go-to backup defender and many people would counter that with, "his pitch framing is the best in baseball." Pitch framing is the most overrated statistic in all of sports. Anyone who plays catcher at the big league level knows how to frame a pitch. But, when pitch framing causes a player to move the glove too early and allow balls to the backstop, a catcher's ability to get an extra strike call or two per game becomes useless.
Grandal has led the league in passed balls in three of the past four season, including last year, when he let 16 go behind him. Not only did he allow 16 passed balls but he also cost the Dodgers at least one game. Grandal allowed a ball to go all the way back to the backstop in Anaheim and handed the Angels a win they should not have gotten. So, not only is his framing coming at the expense of good defense, but he is costing the Dodgers wins.
Beyond defensive issues, Grandal's offensive abilities are not good enough, in my opinion, to warrant him another season on a team looking to win now. While he did hit 22 home runs last season, he also struck out 130 times and hit just .172 with runners in scoring position. His overall stats were, however, good enough to earn him an overall season WAR of 2.2 and his production in general was good enough to draw attention in a trade.
If the Dodgers are looking to make trades this offseason then Yasmani Grandal should be at the forefront of those discussions. He was productive enough last year to bring a good haul back to the Dodgers. But, while he was "good enough," the Dodgers are at the point where excellence should be the standard and Grandal is just not that anymore. It will be interesting to see where the Dodgers go from here because Grandal's fate feels obvious to me.
About the Writer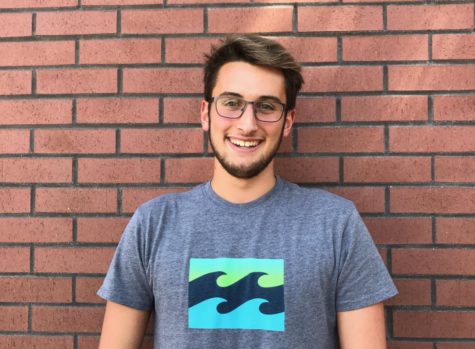 Jacob Rudner, Sports Editor
Jacob is a Senior at dTHS. This is his first year writing for the Prowler. He will be writing about school sports and professional sports.