Remember What's Important This Holiday Season
Hang on for a minute...we're trying to find some more stories you might like.
Whether it's setting the table before your family arrives for the dinner, lighting the candles after sunset, or putting the star on top of the Christmas tree, as the years have gone on, these holidays have lost their true meanings.  
Today, every holiday is about one thing: consumerism.
Thanksgiving, once a holiday about celebrating the harvest, has now become about how lavish one's dinner spread is. What is even more ironic is that is that the day after we gather around our dining room tables saying everything we are thankful for, we go out and shop for unnecessary items simply because they are on sale because of Black Friday.
Hanukkah is no longer about the miracles of the oil lasting for 8 days and the Maccabees defeating the Ancient Greeks, but rather about how much money you get from family members. Christmas is no longer about the birth of Jesus Christ, but is about the number of presents you get under the tree.
New Years has become about buying expensive outfits for that party you've been planning to go to for months.  
Then, there's Valentine's Day. Dozens of red roses are purchased alongside boxes of chocolates and teddy bears to celebrate love.
While the list of holidays and what they have turned into can go on and on, it is important to understand not what the holidays have become, but what these transformations have caused.
Months are now classified by the holiday that falls within them. Starting December 1, every store you walk into, whether that be a grocery store or a home decor store, has displays of Christmas  and Hanukkah merchandise right by the entrance. Every radio station blasts Christmas music, and Starbucks serves you your usual latte in their infamous Christmas cups.
Many kids these days don't even know what these holidays are about. They think Christmas is about Santa and Easter is about a bunny that gives you chocolate. Traditions have been put aside as consumerism has become the main focus of holidays.
Consumerism has grown to what it has today for a variety of reasons. Today, things are mass-produced and thus have become more affordable. Because merchandise is both more affordable and more available, people buy more simply because they can.
However, just because something is there for us, does not mean we must use it, nor should we use it to fill the void of something else. A present does not substitute someone's affection, nor does money sent in a card replace a phone call or a family member coming over for a holiday dinner.
Let's stop trying to fill the moments of our lives that should be comprised of family and friends with objects, but rather focus on the true importance of holidays: people. While it hard to get society to change its ways, it is up to us to start making that change.
Maybe this holiday season, instead of spending your time going to the store to buy a gift, spend your time being with a person you care about, celebrating whatever it is you celebrate.
About the Writer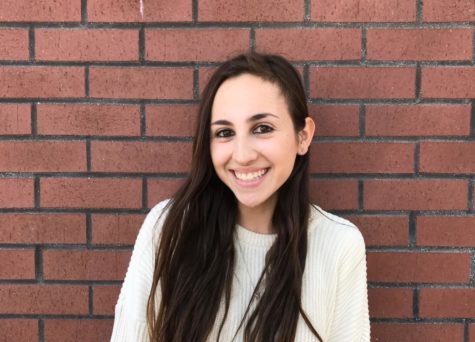 Simona Vishnevsky, News Editor
Simona is a Senior and has been a part of the Prowler since her freshmen year. She is captain of Dance 2. She loves writing and photography. Her favorite...