Who is Oprah Winfrey?
Hang on for a minute...we're trying to find some more stories you might like.
Oprah Winfrey. A name almost everyone knows. You may know that she had a talk-show, or that she has her own magazine. You may have only recently heard her name after her game-changing speech at the Golden Globes as she was accepting Cecil B Demille Award for her contributions to the word of entertainment. But what you may not know about Oprah is how absolutely incredible her journey to success has been.
As Jane Mulkerrins of The Telegraph said, "It's difficult to begin listing the extraordinary accomplishments of Oprah Winfrey without running short of breath." But do you know how it all started?
Oprah Gail Winfrey, born on January 29, 1954, in Kosciusko, Mississippi, had a less than ideal childhood. Since her parents had been split up, she was raised by her strict grandmother on a farm where Oprah was taught how to read at only two and a half years old.
On the first day of kindergarten, Oprah wrote a note to her teacher explaining how she should be in the first grade, and they were so impressed they moved her up. Throughout these years with her grandmother, Oprah was encouraged to speak publicly in church. This was the beginning to a life filled with public speaking opportunities.
When her grandmother fell ill when she was six years old, Oprah was moved to a Milwaukee boarding house with her mother and half-sister. After a year with her mother, Oprah was moved to Nashville, Tennessee to live with her father and stepmother. Her dad was strict, but hoped to give Oprah the best life. He valued education, and also religion, so with weekly visits to church, Oprah received more opportunities to publicly speak in front of her congregation.
After completing the third grade in Nashville, Oprah chose to move back to Milwaukee with her mother. While Oprah's mother was not home, she found herself intrigued by the television. This is where her desire for fame began.
With Oprah's love of reading and passion towards learning, she was granted the opportunity to transfer to an all-white middle school. She changed schools in order for her to receive the best education she could get.
Despite these educational opportunities, Oprah faced abuse. She was raped by her cousin and abused by her uncle and family friend. She was told to keep this all a secret, and at only 9 years old, she didn't know any better.
Keeping this abuse a secret took its toll on her life. She started to act out by stealing, lying, and dating boys.
When she was only fourteen years old, Oprah found out she was pregnant. She didn't tell her parents, and Oprah was sent to live with her father because her mother, without knowing about the pregnancy, could no longer handle all of Oprah's immaturity.
Her father did not find out about the pregnancy until seven months in, when she gave birth prematurely. The infant died only two weeks later. This was a turning point in Oprah's life. She knew then that it was time for things to change.
Oprah returned to her former passion of public speaking and won a four-year scholarship to Tennessee State University. She began to get her name out there through attending the 1971 White House Conference on Youth in Colorado, talking in interviews on the radio, winning beauty pageants, receiving a part-time job reading the news on the radio, and securing herself a bright future.
According to a Time Magazine interview, when she returned to public speaking she told herself, "I have found my home. This is what I was meant to do."
As indicated on her website oprah.com, "Oprah Winfrey has created an unparalleled connection with people around the world." Oprah has become a famous actress, talk show host, and philanthropist, and she has shaken the world with her impact.
Nothing has been given to Oprah Winfrey. With a hard life, she has worked her way up in order to become who she is today.
Oprah Winfrey is the archetype of the American Dream. She is evidence of social mobility and that the American Dream is real. She proves that people are capable of coming from nothing and with determination and dedication, anything is possible. Oprah is important because she proves that no future is set in stone, and with enough hard work, any goal can be accomplished. Oprah, a philanthropist, talk show host, and actress, created her path to success and she teaches Americans that they can do it too.
About the Writer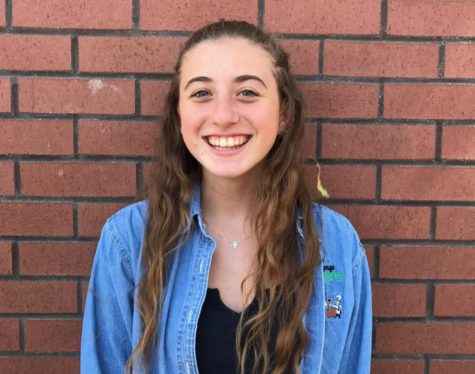 Shayna Goldstein, Opinion Editor
Shayna Goldstein is a senior and it's her first year working for the Prowler. She is on the Varsity Dance Team and enjoys long beach days and making people...