Young Frankenstein Is Aliiive! It's Aliiive!
Hang on for a minute...we're trying to find some more stories you might like.
With every new year comes a transition of typical school-wide meetings from Lainer Auditorium to the gym, and with that, a host of problems caused by poor lighting, challenging sightlines, and a room that echoes sound waves all over the place. This transition is so drastic that complaints can be heard every meeting about the gym, and several students even brought it up as a concern during a Student Council-led Town Hall. As someone who is often involved in the technical production of school events, I lament the gym as a meeting venue perhaps more than most.
However, it cannot go without saying that there is a grand reason for the gym's use as a meetingplace for several months every year. There is an ultimate factor that renders the amazing Lainer Auditorium not suitable for meetings for these several months, a happening so big that it consumes the school's focus for a few weeks every January and February. Lainer Auditorium is transformed from a low-tech auditorium to a Pantages-comparable theatre, complete with elaborate light plots, booming sound designs, thrusts stage, and for the first time, a trust, pulley system, and for the second time, a functioning main drape.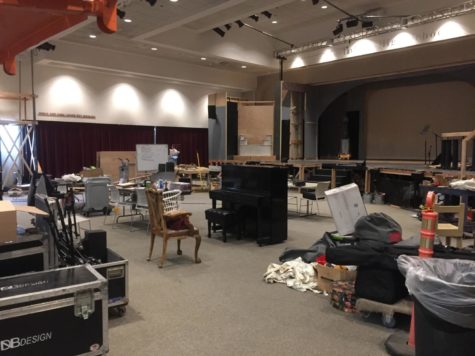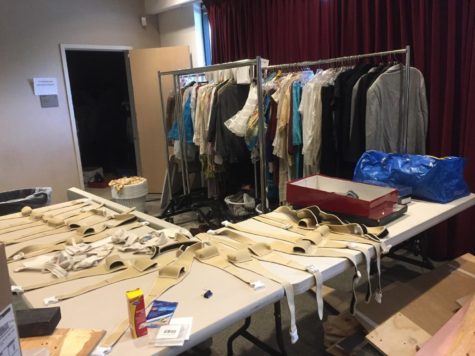 I encourage you all to take five minutes after school, during lunch, or a free period and physically "poke" your head into Lainer and see for yourself why this wonderful multipurpose room has been rendered unusable for about two months. Right now, about a quarter of the floor space is taken up by a thrust stage flanked by imposing, ten-foot tall structures on either side, with an aluminum truss filling the airspace between the two. The rest of the auditorium carpet is masked by sawdust, piles of wood, sound equipment, tables, production materials, workspace, and costume racks.
Young Frankenstein is in full swing, and it is swinging hard! For the entirety of January, a constant hum of pit orchestra, crew, and cast will be heard emanating from Lainer Auditorium all day until around 10:00 pm.
The cast celebrated their first costume fittings in the past week, as well as makeup and hair trials. Lines, lyrics, choreography, and staging are crystallizing into one magnificent, fluid story of a grandson's search to reconsider his family's name and heritage.
The students of the pit band have been joined by a talented group of professional musicians to form a nineteen-odd piece orchestra. Student electric bassist Ethan Rubin described working with the professionals: "It feels good. Like a brotherhood." Our pit band may be situated out of sight, but they will never been out of mind as they provide the sometimes gentle, sometimes harsh, and always welcome soundscape that helps put the "music" into "musical."
To the dismay of many Stagecraft students, the various elements of the show are surely being combined to form a set, and such marks the beginning of the end of the auditorium as a workspace rather than a performer's venue. A great deal of painting has been underway as well as assembling the last few set pieces and mounting speakers around the room to project the wonderful noises of cast and pit to the audience.
Over the past week and continuing into January, our constructors have been turning into backstage crew. Our student light board operator, Jonah Rudner, described the experience of beginning to control the elaborate lighting plot as "[making] me feel like I'm part of something bigger, and like one piece of a large communal puzzle."
This Student Life Editor hopes he can say with confidence that de Toledo High School resident director and drama teacher extraordinaire Diane Feldman speaks on behalf of the entire de Toledo family when she says she is "Beyond excited for everyone to come together these next few weeks, and make theatrical magic within the walls of de Toledo!"
This stunning coagulation from the fluid process of pre-production to the solidified eight performances is taking place right now within our place of learning, as it has taken place every year since the de Toledo theatrical department was born. Again, if you haven't already, I personally invite you to take a look around the Young Frankenstein set as it has progressed until now, and appreciate the beauty that us in the theatre department live every day.
About the Writer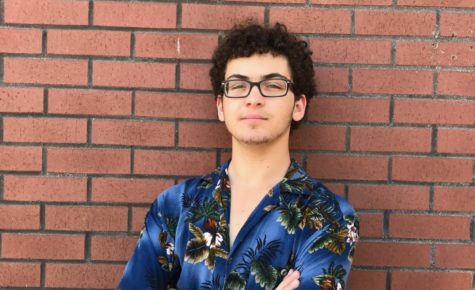 Rafael Monkarsh, Student Life Editor
Rafael Monkarsh is currently in his Senior Year at de Toledo High School. He unearthed his love for writing in 2016 upon taking Advanced Placement English...