Favorite Dinner Restaurants
Hang on for a minute...we're trying to find some more stories you might like.
I'm sure that this post comes to no surprise. With my breakfast and lunch recommendations, I felt the need to finish it off with my current favorite dinner restaurants. I know that I've previously done five, but I could not choose which restaurant to cut out from my top six, so I decided to include them all.
Also, I don't think I blatantly said this in my past articles, but if I did, I just want to reiterate that regardless of what restaurant I go to, I always premise my order by saying, "Hi, I have an allergy to gluten and dairy, so can I please get…"
​And, while this infamous line begins every conversation I have with my waiter, I always specify what gluten or dairy food could contaminate my meal. For example, if there is cheese on a salad, I always make sure to say "no cheese please," as well. If someone doesn't have allergies, it is hard to know what would have dairy or gluten in it. For instance, a lot of people think mayonnaise has dairy in it, but really it is completely dairy free.
It is always better to be safe than sorry, especially if your health is on the line. So, with that said, here are my current favorite dinner spots!
My all time favorite restaurant, and coincidently, a dinner restaurant, is Pace. Pace is a nice little Italian place right inside Laurel Canyon. When I was able to digest fish, I used to get their grilled salmon with asparagus and root vegetables. However, now, I get their gluten free pasta. Their gluten free pasta is the best pasta I have ever eaten, no exaggeration. I get gluten free spaghetti or penne (depending on my mood and what is available) with grilled vegetables and marinara sauce. The dish is seasoned just right, and the pasta is cooked so that there is still some bite to it. I usually ask for whatever vegetables they have to be put inside the pasta dish, and it usually comes with zucchini, carrots, and squash. I would drive in rush hour traffic on the 101 and Laurel Canyon to get this dish, and that is saying a lot. Aside from this pasta dish, I always start my meal with Pace's soup of the day. All of their soups are vegan and gluten free, which is a plus! My personal favorite soup is their broccoli soup, but I have not tasted one that I didn't like.
My second favorite dinner restaurant is Katsuya. Katsuya is a very popular sushi restaurant, and when I was able to eat fish, I ate there much more than I do now. However, I have found a way to enjoy my time at Katsuya without just getting a plain cucumber avocado roll. Don't get me wrong, I love cucumber avocado rolls-however-as someone who used to eat all types of fish, it is a tad disheartening to walk into a sushi restaurant and ask for two cucumber avocado rolls. That said, I have devised a new creation that will change the way vegans eat sushi. When I go, I order one order of spicy tuna on crispy rice, but without the spicy tuna on top. I also make sure to specify that I have a gluten and dairy allergy to make sure that they don't cook it with butter or fry the rice in flour. I then order one grilled asparagus appetizer, gluten and dairy free, and two sides of the steamed tofu that they use in miso soup. Once the food arrives, I take my rice cakes and layer them with the tofu, asparagus, wrap it in tons of ginger, and dip it in gluten free soy sauce. It is really delicious. If you can eat mayonnaise, I suggest getting a side of spicy mayo and making your own spicy tofu mixture to top the rice cakes with. While messy, I promise this dish is worth it.
My third favorite restaurant is Gracias Madre, located in West Hollywood (you are going to see a trend of Mexican food in this post because Mexican food is easy for me to eat – beans, rice, veggies, corn tortillas, guacamole and I'm set). My favorite meal at Gracias Madre was their Mushroom Fajita special. It was really flavorful and lasted me two meals since it was such a large portion. However, I don't know if they are available all the time. My favorite appetizer is their brussel sprouts. They may honestly be my favorite brussel sprouts. They are crispy but at the same time allow your teeth to sink into them. They go very well with a sprinkle of lemon, and they give you a very large portion which is good because if you don't finish them, you can take them home. My favorite dessert is by far their vegan and gluten free Pumpkin Flan. It is pumpkin flavored and sinks right through your teeth as you take a bite.
My fourth favorite dinner restaurant is Wokcano. Wokcano is a Chinese/Japanese restaurant. There are locations in Woodland Hills, West Hollywood, Culver City, Long Beach, Hollywood, and more. I get their vegetable fried rice without egg. I make sure to ask for gluten free soy sauce, and from prior experience, learned that they do make their rice with butter. So, I make sure to ask for no butter on the rice or vegetables due to a severe allergy. The only issue I have with Wokcano is that they often get the order wrong when I order takeout. However, I have never run into any issues when I eat there. The rice is a super simple dish but incredibly filling and very tasteful.
My fifth favorite restaurant is Sol Y Luna. Sol Y Luna is my favorite Mexican Restaurant and is located in Tarzana. Their rice is my all time favorite rice. It comes cooked with corn and onion and is absolutely delicious. When I eat at Sol Y Luna I make my own fajitas. Since they don't have vegetable fajitas on their actual menu, I order each piece of fajitas on their own. I order one side of rice, black beans, steamed vegetables, corn tortillas, and guacamole. However, I make sure that there is no cheese atop the beans or guacamole because if not specified they will put cheese on top. The side of vegetables comes with carrots and green and yellow zucchini strips. They go very well with the black beans and that amazing yellow rice. Sol Y Luna also has very delicious strawberry lemonade!
My sixth favorite dinner restaurant is XOC grill. XOC grill is another Mexican restaurant located in Woodland Hills inside a little shopping commons called The Village. My favorite meal at XOC grill would have to be their Veggie Tacos. Their veggie tacos come with mushrooms, zucchini, and peppers. The olive oil used to cook the veggies is super flavorful and they are also seasoned very well. I get the tacos in corn tortillas with black beans and white rice. The white rice is delicious and paIRS really well with the tacos and beans. I always put the rice and beans atop the taco and eat it all together. It really is delicious, however, my recommendation would be to eat there because the olive oil tends to leave the dish soggy if taken to go. That said, I have never experienced soggy tacos while eating at XOC grill and have been very pleased each time I've gone.
About the Writer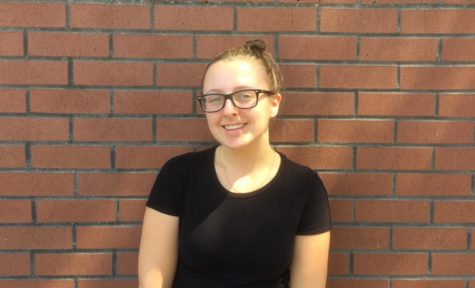 Gabby Resnick, Opinion Editor
Gabby Resnick is a senior here at de Toledo High school. She loves creative writing and plans to start a food blog in the near future. If you can't find...