Madness in March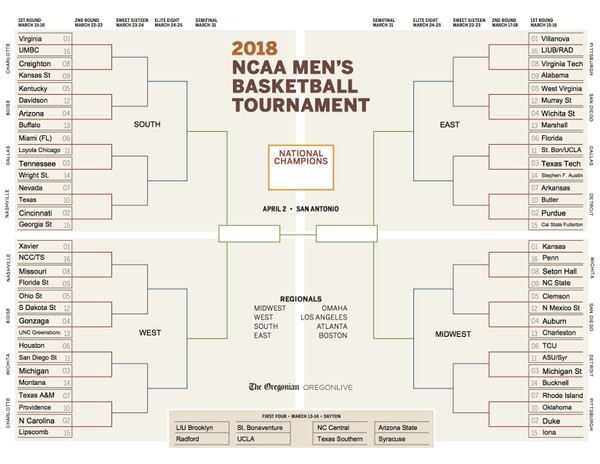 Hang on for a minute...we're trying to find some more stories you might like.
The greatest sporting event is finally upon us. Four weeks of upsets, Cinderella stories, busted brackets, buzzer-beaters, and college basketball players giving it their all in win-or-go-home games. Selection Sunday has passed, brackets are being made, and everyone is ready for the best four weeks of college basketball.
Here is everything you need to know to prepare for the big dance.
College basketball this year has been wild. There has been no clear favorite this year, as the number one team in the rankings shifted almost every week. There are stronger teams than others, but there is no "favorite" team in this tournament. Virginia is coming in as the best team, as they went 31-2, won the ACC Tournament, and were rewarded with the overall #1 seed in the tournament. The other four #1 seeds are Kansas, Villanova, and, somewhat surprisingly, Xavier.
Xavier had a decent year, going 28-5 in a tough Big East conference. However, they lost to both Villanova and Providence twice, including losing to Providence in the Big East Tournament. Still, they are one of the hottest teams, having gone 10-2 in their last 12 games, and have one of the best and most veteran players in the country in Trevon Bluiett. Xavier will not be an easy out, even though they may have gotten lucky with their #1 seed.
Xavier isn't the only team that the committee may have mis-seeded. Some teams, like Purdue, Texas Tech, and Tennessee, were fortunate enough to get seeds that they did not deserve. Purdue is a #2 seed, and both Texas Tech and Tennessee are #3 seeds. Although these are strong teams, there are stronger teams that deserved higher seeds, such as Michigan as a #3 seed and Arizona as a #4 seed. However, seeding is the least of these teams' worries, as this is March Madness, and anything can happen.
The undisputed best part of March Madness is the upsets. It is watching a team like Mercer beat Duke, or a team like Georgia State beat Baylor. March gives low-level schools a chance to make a name for themselves, and bench warmers like Luke Maye a chance to hit a buzzer-beater in the tournament and become the most popular guy in North Carolina. Here are some possible cinderella stories to look out for:
#11 Loyola-Chicago is playing #6 Miami in the first round, and has a huge chance to upset them. Loyola-Chicago is 11-1 in their last 12 games, has four players averaging over 10 points per game, and scores over 72 points per game while holding opponents to 62. Look for Loyola-Chicago to pull off the upset, and possibly even make it to the Sweet 16.
#12 South Dakota State is another team that has upset potential over #5 Ohio State. South Dakota State is also 11-1 in their last 12 games, and are led by Mike Daum, who averages 24 points and 10 rebounds per game, while also being a great three point shooter. Ohio State will have a tough time stopping Daum, and the rest of the Jackrabbits in this potential upset.
#14 Stephen F. Austin is my personal favorite upset over #3 Texas Tech. The Lumberjacks are 10-2 in their last 12 games, and lead all of college basketball in turnovers forced per game. Texas Tech has come down with the injury bug, with leading scorer Keenan Evans playing through a toe injury. The stage is set for a Stephen F. Austin upset.
One last upset to watch for, and most definitely the boldest, is the aforementioned #15 Georgia State Panthers who face #2 Cincinnati. The Panthers have done it before, and are led by Coach Ron Hunter, who helped lead them to the upset over Baylor in 2015. The Panthers are led by sophomore star D'Marcus Simonds, who averages over 20 points per game. Look for Georgia State to give Cincinatti a run for their money, and possibly come away with a victory.
With the lack of a favorite in this tournament, it is especially difficult to make any predictions on who will win. However, some safe bets (even though nothing is safe in the tournament) would be Virginia, Villanova, Duke, and North Carolina. Some possible riskier but very possible bets would be Michigan State, Michigan, or Arizona. Personally, I think Duke will come out victorious, as long as they can get past the first weekend, which they have had trouble doing recently.
Brackets are a very private thing. It is difficult to get other people's predictions, as people don't share their brackets. Both seniors Zach Fallas and Dylan Bender had #16 seeds winning it all — and a #16 seed has never even made it out of the first round. However, they both finally gave me "real" ones. Zach had #11 UCLA beating #10 Texas, while Dylan also had UCLA is going all the way. If UCLA somehow does pull off one upset after another, they will be the highest seed to ever win the tournament.
Junior Liam Evenhaim gave me a real prediction, saying the overall #1 seed Virginia will live up to the hype and win the whole tournament.
The Round of 64 has begun, so go fill out your bracket and prepare for a month of madness.
About the Writer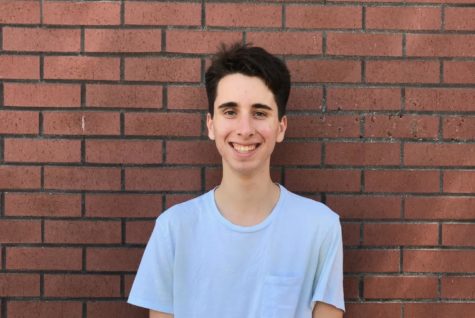 Noah Camras, Sports Editor
Noah Camras is a senior here at dTHS. He is writing for the Prowler for the first time, and will be sharing his opinion about various sport topics. He...