dTHS Theatre Pivots to Radio Drama Series
Episode 2 of "Frankenstein" Premieres Thursday, Oct. 29, at 6 p.m.
When we think of theatre, we think of a big stage with a packed audience and huge sets, but this year it's a little different.
Like many things, we've adjusted to our new lives. Due to COVID-19, de Toledo High School director Michael McClain has been forced to change the shows for this season.
Last year, it was decided that the next de Toledo season would be murder-themed. Due to the rights of these shows, we were unable to do them online, so McClain had to find shows that would allow us to have creative freedom, whether it was online or in person.
The shows were chosen. We were to do "Frankenstein" and "Lip Stick Lobotomy" as our fall shows. The next question was, "How would we do it?"
McClain didn't want a zoom show. He wanted something easy for everyone to enjoy–a radio drama. Many people listen to podcasts these days which made this decision super innovative, a way to give de Toledo High School theatre students a creative outlet and a new experience.
Rehearsals for "Frankenstein" started in late September/early October. The students worked on character development and how to get emotion through just with your voice. One of the tips was to stand up and over-exaggerate your movements so the words would come out with more emotion.
As a member of the "Frankenstein" cast (I play both Claire Clairmont and Justine Moritz), when I was practicing my death scene, McClain asked for me to do it with more hope and demands for answers rather than being sad and on the verge of tears.
McClain brought in specialists to help the students get more comfortable in their British accents and with the big microphone we will be using.
"Frankenstein," an adaptation of Mary Shelley's classic by Alexander Utz, is the first show of the 2020-2021 Understudy Season in the new Radio Drama Series, McClain announced in an email.  "You will be able to relax, sit back, and enjoy these amazing stories at home," he wrote.
Episode 1 of "Frankenstein" premiered Oct. 22,  and Episode 2 will go live on Thursday, Oct. 29, at 6 p.m.  Meet the Cast interviews were released Oct. 19. All the episodes will be available until Sunday, Nov 8th.  Register here.
"Lipstick Lobotomy," by Krista Knight, will be produced and performed as Radio Drama on Dec. 9 and Dec. 16.
About the Writer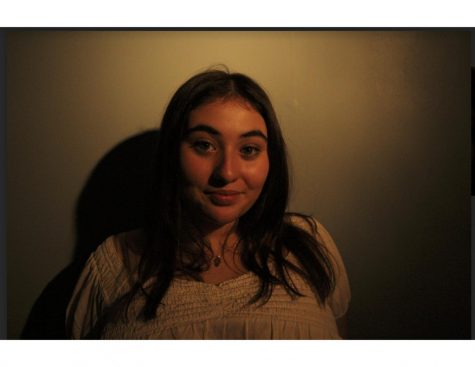 Shiran Leib, Arts & Science Editor
Hi! I'm Shiran Leib, and I'm a junior. I'm super excited to write for The Prowler! I've always had a passion for reading and writing stories about anything...