South Trip Turns Moments into History
Going to the South with my school really took me out of the Californian bubble. I never knew how different a part of the United States could be from where I live. I have never been to the South before, and seeing it in person was really eye-opening. Everywhere you walk and everything you see is a part of history. 
We arrived in Memphis, Tennessee, known as "Home of the Blues & Birthplace of Rock 'n' Roll," on May 22, the class of 2023's first stop on a four-day trip to the South to learn about the Civil Rights movement. 
Juniors got to LAX airport at 3 a.m. to begin our journey to the South and traveled half asleep to our gate, where we would soon board Southwest Airlines and make a stop in Houston, Texas, to get on our connecting flight to Memphis. 
Boarding buses, ready for a new adventure, we dropped off our bags at the Holiday Inn and made our way to Beale Street, the heart of downtown Memphis during the roaring '20s and to this day. We wandered along the three blocks of Beale Street–known for its nightclubs, restaurants, shops,  jazz, and rock 'n' roll–seeing and hearing all the music and happy people. As we scattered the streets to find food, we ran into Central BBQ restaurant, where we had Memphis's famous BBQ. 
Later in the evening, as we made our way back to the hotel, we met our leaders and planners of the trip, Tzedek America, who sat us in a circle as we played introductory games and ate ice cream. They began to prepare us for our heavy and intense learning trip. 
The next morning, we went to the National Civil Rights Museum, where we heard from guest speaker Rabbi Micah D. Greenstein from Temple Israel Memphis. We walked around the National Civil Rights Museum, and we saw the last porch Martin Luther King Jr. stood on before he was shot. We saw the hotel room he stayed in, along with the angle from where his shooter stood. 
We made our way to the Slave Haven Underground Railroad Museum, where we saw how slaves escaped on the Missisippi River and learned the how the underground railroad system for the slaves operated. 
After a day of learning and walking around parks and museums, we ended up back on Beale Street where we danced, sang, ate, and bonded as a class: Dinner & Dancing at Wild Bill's Juke Joint & BBQ! Soon after our BBQ chicken sandwiches, we boarded the buses for a five-hour bus ride to Birmingham, Alabama. 
We got to the hotel around 11:30 p.m. and went straight to our rooms after the long days of travel, where sleep has never felt better! 
We woke up in the Embassy Suites Birmingham and packed our bags, ate breakfast, and made our sack lunches. We were only spending the day in Birmingham, and first met with T. Marie King who gave us a spoken tour of the 16th Street Baptist Church. Then we made our way to Bethel Baptist Church and Sloss Furnaces. 
Later, Beth El Synagogue hosted us to teach us about different historic activists and serve a southern dinner of chicken dumplings and collard greens. After our warm welcome at Beth El Synagogue, we boarded the buses to Montgomery, Alabama, for a three-hour bus ride. 
The next morning we woke up at the Embassy Suites Montgomery where we made our way downstairs for breakfast and packed our lunch bags. We were going to stay in this hotel for two whole days! 
We partnered with a school in Montgomery, and they were going to give us a walking tour of Montgomery led by the Booker T. Washington ( BTW) students and Memorial for Peace and Justice, but due to rain we remained on the buses for the tour. 
After having lunch, we went to the Equal Justice Initiative (EJI) Legacy Museum where we walked through the Lynching Museum with our BTW friends. We studied the ongoing history from the past to unfortunately the present. After our walk through, we debriefed in small groups and boarded the buses to Selma, where the "Bloody Sunday" Civil Rights march occurred. 
In Selma, we met Terry Chestnut, son of J.L Chestnut Jr. , a Civil Rights attorney for African Americans in Selma. Chestnut was present on "Bloody Sunday," as his father was close with Martin Luther King Jr. We walked across the Edmund Pettus Bridge alongside Chestnut as we heard his life story. 
We went back to Montgomery and played a murder mystery game with our grade as we ate dinner together! 
It was our last day, and we began to travel to Atlanta, Georgia. We stopped at the Lynching Site Memorial to remember Austin Callaway, a 16-year-old African American man who was lynched in 1940. We stood in a circle and remembered his name alongside his close family members. 
We continued to travel to Atlanta, Georgia, and stopped at the Ponce City Market, where we could get anything we wanted to eat. My friends and I headed to Sweetgreens, and it was the best meal we have had! We had forgotten the time changed in Atlanta by one hour compared to Alabama, so we rushed back onto the bus and made our next stop at the Atlanta Library where we met another guest speaker, Theresa Davis, a winner of the Women of the World Poetry Slam in Columbus, Ohio, where she was the champion. Davis, who was honored by the city of Atlanta for her activism with a proclamation that declared May 22 "Theresa Davis Day" in Atlanta, shared one of her poems with us. 
We began to close our circle after meeting Davis. We reflected on the trip and shared our key moments together. 
Walking through the South is walking through moments in history and learning about important events that took place like the American Civil Rights Movement. I will forever remember the significance of this trip our school gave us and will always be grateful that I had the opportunity to learn about life-changing historical events. 
Leave a Comment
About the Contributor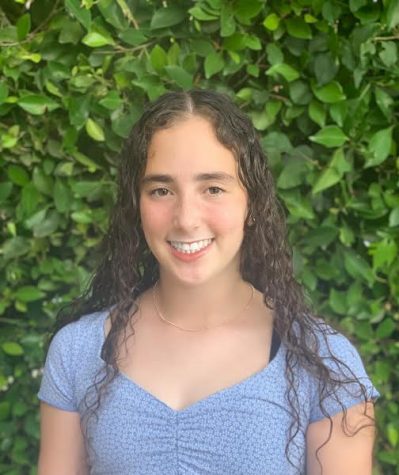 Enessa Epstein, Entertainment Editor
My name is Enessa Epstein. I am a junior, and I am so excited for Journalism this year. I love writing, especially short stories and creative pieces. I...