Thrills and Disappointments on a Bahamas Cruise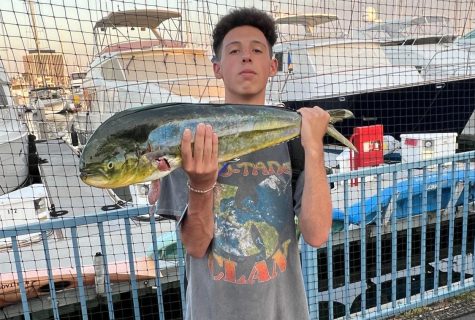 More stories from Eden Shriqui
Getting to the port in Miami was a mix of chaos and organization.
The first thing that happens when you get there is that they automatically check in your bags and take them away on to the ship. You walk into the check-in area and it's very hectic, yet it's very easy to find peace with where you are and to just kind of relax despite all of the chaos.
Once you arrive on the ship, you have to check in to a safety protocol, and they give you your room card. After a little lecture on safety, you go off and explore the ship while the luggage is being loaded. 
We were supposed to receive our luggage at about 4 p.m, but it arrived at about 7 p.m. Then, you go off and eat at the buffet and find almost your own little neighborhood, you could call it.
I really liked to be outside. The air was amazing as the ship is moving, and with the sun beating on you, the effect is quite refreshing. There is also live music, drinks, food, and an endless number of pools. Because people are on vacation, everyone is very friendly and after you find your own little area it's very easy to talk to everyone 
The first night, we ate dinner at one of the onboard restaurants, a three course meal: appetizer, entree, and dessert. For my meal I ordered a French onion soup, a New York cut cooked medium rare and a creme brûlée. 
Day two: we arrive at Royal Caribbean's private island called CocoCay. We got off the ship and stepped into paradise with very green palm trees and a 135-ft-tall slide in the distance.
There was everything you could possibly imagine and more on that island: good food, drinks, endless outdoor activities and people who work there on every corner to help you. We first explored the Island starting with the beach and a nice nature trail which really does give a little break from the big ships. We then went into the cabanas on the sand and just relaxed for a little bit before going back to the main attraction: the water slides. We started off small and got higher; by the end, we rode a water slide called "Daredevils Peak," the highest waterslide in all of North America. It is very scary because you feel like you're flying way too fast. By the time you realize what's really happening and the blood isn't completely rushed into your head, you've pretty much hit the end. After we rode that ride, we went back up to a different ride where the floor falls from underneath you; it was my first time doing one of those kinds of slides and I was terrified, to say the least. I've never been the biggest fan of waterslides, so this was quite the jump.
We headed back to the ship in the late afternoon, almost evening time. Once we passed the security checkpoint on the ship, we headed back to our rooms, showered and then got dinner again at the nicer onboard restaurant.
We woke up very early in the morning and arrived at the Bahamas' capital of Nassau. Getting off the ship, I had very high expectations. I genuinely thought it would live up to the promise, but honestly it was a disaster. We walked off the ship and the port was shared by other ship companies and genuinely felt like a marathon to go back and forth. As you finally get to the mainland you are immediately met by hundreds of locals trying to sell you all kinds of products, and they don't leave you alone even after saying no and refusing. These vendors sold everything from Cuban cigars to ATV rentals and rum cakes. 
In what feels like a third world country, tourism is the only way the locals can survive. Even though they have all these big resorts and huge banks, people still live in the past and everything there is antique.  The cars are from 20+ years ago and the buildings, who knows when they were built and from what; one hard gust of wind and they fall over.
We got a taxi to the tourist beach and the cab drivers saw tourists as walking ATMs. As we arrive at the beach of course there are more locals trying to sell you things: this time it was a hollowed out pineapple with drinks inside and it was supposedly free refills and one man in what looked to be his mid 20s would not stop pestering us no matter how many times we refused he went as far as to follow us all the way down towards the shore. 
We only ended up staying on the beach for about an hour before we left. The waves were very big and they crashed right on the shore and got everything very wet and threw all of our stuff around.  On our return, the cab driver kept trying to raise the price but we haggled our way down to the original price. This was genuinely the scariest taxi experience I've ever had. To be honest, I don't know if he was a real taxi driver and not an imposter, but he was driving recklessly, way speeding on very narrow small streets, and his window did not work so every time he wanted to talk to someone outside he would full on open his door and call out while driving. He also kept going on about how he partied last night and not this morning so he was fine, but he was definitely intoxicated. 
Luckily, we returned in one piece, shivering, but we boarded the ship and just messed around on the onboard activities of the ship until night. Unfortunately, we didn't get to go to the restaurant onboard but we had a pizza place on the ship and it was good. They had so many different toppings, and it was complimentary. 
One of the activities that was a lot of fun was the silent party on board. A silent party is very interesting as everyone has their own pair of headphones playing one of two stations playing music, and it's very odd when you don't have your headphones and see what it would look like to an outsider, but it was very fun. 
Another highlight was the basketball court on the top floor. There are always people playing, and it is a lot of fun playing with people on the ship. Right next to the basketball court there is a rock climbing wall which I did not do but seemed very fun.
The last activity that was very fun was the Flow Rider, a machine that pushes out water and simulates a wave. You then have one of two options:  either surfing it or going on your stomach. I also did not do this as every day the line was ridiculously long, but I have done it in the past and can vouch that even though it's very difficult, it is a lot of fun. 
The last day was really just a rest day after all the fun we had. It was just a day of sailing and not much going on, so we just kicked back on the ship and had fun. Once we arrived in Miami bright and early in the morning, we headed to the buffet room to have breakfast before departing the ship. It took a very long time to get off the ship, but once we did we Ubered home and fell asleep for a couple of hours, then went to the pool, did a little barbecue, and then we went to the airport and arrived at LAX in the morning. 
Leave a Comment
About the Writer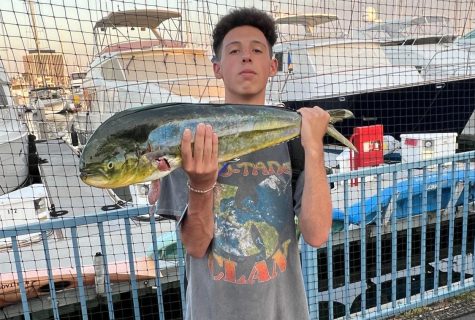 Eden Shriqui, Arts & Entertainment Editor
Hi my name is Eden Shriqui. I'm a sophomore at de Toledo, and I will be writing about music and sports.