Classical Music Salon: RePRISE Creates an Oasis of the Arts
deToledo's annual Classical Music Salon brought grace and liveliness to our halls this Wed. Nov. 10. The program, titled "RePRISE," featured pieces with a reprise of melody and created an oasis of the arts amid our school's busy day. 
Jared Stein, Director of Instrumental Music and welcoming host of the program, was sure to emphasize the "salon" aspect of the event, encouraging audience members to exhale at the beginning of the performance and treat the program as a casual sharing of talents in the living room of a friend. Audience members, containing a range of teachers, students, and visitors, swayed, meditated, and indulged themselves in the music of the afternoon. 
Performances included Sergei Rachmaninoff's Prelude in G minor, Op. 23, No. 5, played beautifully by Sarah G ('22), as well as Christian Hogue's Trumpet Solo from "Ave Maria," played vibrantly by David G. ('24). Our very own Ms. Kelly Hedgspeth of College Counselling showed off her incredible talents in opera, singing Carlisle Floyd's "Ain't It a Pretty Night," an aria from the opera "Sussanah," accompanied by Dr. Stein. Her fellow college counselors Michael Truschke and Briana Barkin were even seen enthusiastically supporting her in the audience! Cece N. ('24) performed the playful Ballade Opus. 100 No. 15, by Friedrich Burgmuller, and senior Mirah G. performed the intense, French-Revolution-driven Polonaise in A-flat major, Op. 53, by Frederic Chopin. 
Each performer gave a short explanation of the history or meaning behind their piece before playing, enlightening the audience with extra knowledge of the arts. This concoction of education and music was a clever way to embody the ideals of deToledo's art program–that the arts can deepen our understanding of the world. 
The highlight of the program, though, was Jared Stein and Rebecca Garul's performance of the Hungarian Dances, No. 5 by Johannes Brahms. The exuberant performance of the lively dance tune had the audience jumping in their seats. Watching the Director of Instrumental Music perform the joyful piece so happily reminded everyone of the authenticity of live performance.
Though the theatre was practically filled, faculty made up the bulk of it, so if you're a dT student reading, be sure to attend the next Lunch with the Arts program Nov. 18! They are sure to brighten your day. 
Leave a Comment
About the Contributor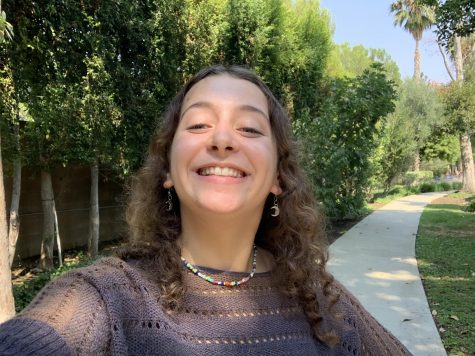 Eliana Chasen, News Editor
Hi! I'm Eliana Chasen. I'm a junior, and I'll be writing for The Prowler this year. When busy procrastinating work for this class and others like...